Bob Baker's The Buzz Factor
Music marketing tips and self-promotion ideas for independent songwriters, musicians and bands.
Music marketing ideas for DIY artists, managers, promoters and music biz pros
---
December 14, 2007
Beyond MySpace and Facebook: Octopus Marketing
I must be insane. My plate is already full with enough projects, errands and to-do list items to make anyone's head spin. But I've still found time lately to wade into the deeper waters of social networking online.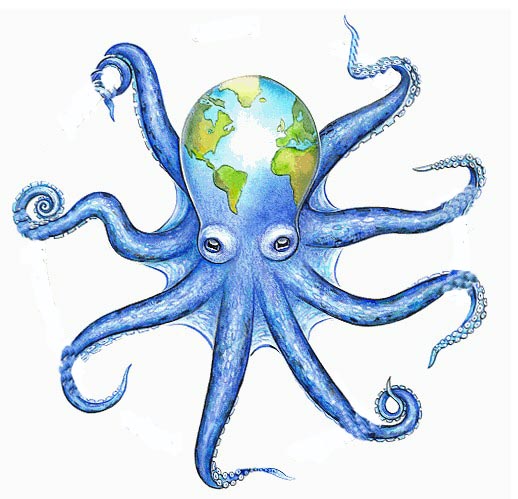 Sure, I already have a presence on
Facebook
,
MySpace
,
YouTube
,
Flickr
,
Twitter
,
Ning
and
Digg
. But after months of putting it off, I finally set up accounts at
StumbleUpon
,
Del.icio.us
and
Meebo
. You should consider doing the same. Why? I'll explain in a second ...
On top of that, I just set up a
Music Marketing Video Showcase
page at SquidVids.com -- a sister site to
Squidoo
, where anyone can create a "lens" on the topic of their choice. My new showcase page offers a bare bones video list to start, but I plan on adding to it in the weeks and months ahead.
Why all this posting to so many different sites? I do it for the same reason you should: to reach people online in as many ways as possible.
My friend Scott Ginsberg encourages people to
think of themselves as an octopus
. Why an octopus? Because an octopus has tentacles -- and lots of them.
To make an impact on the Web, you must stretch your promotional arms in many directions. You have to show up in the places where lots of people are hanging out online. You must be seen and discovered by people who are looking for the kind of stuff you create.
So, if you play in a Tex-Mex blues band, set up a Tex-Mex Music Video Showcase at
SquidVids.com
and link to the best YouTube videos in the genre. Set up accounts at StumbleUpon, Digg and Del.icio.us and link to the best Tex-Mex music sites you know of (including your own).
Write your own blog about Tex-Mex blues music and plug your posts on Facebook, MySpace and Twitter. In other words, spread yourself around so Tex-Mex music fans have many places to find you.
Better yet, fans will eventually see your name popping up on several web sites and think, "I see this band all over the place. They must be something worth listening to."
Now wouldn't that be nice?
Hop into the deeper social networking ocean. The water's fine. Just keep an eye out for the octopuses.
-Bob
P.S. Note that the "squid" of Squidoo and SquidVids is another aquatic animal reference. Coincidence? I think not!
Want to create a music buzz online?
Check out my special report
50 Ways to Promote and Sell Your Music on the Internet
.
Did you enjoy this blog post?
Subscribe now
and get all of my newest ideas delivered by email or RSS feed.
Learn how here
.
Get more tips like these
when you subscribe to my free Buzz Factor ezine — the longest running
music career tips email newsletter
on the planet. Since 1995. Learn more about the
free subscription here
.
Or just sign up using this quick and easy form:


Your email address will not be shared. Unsubscribe at any time.

Connect with
Bob on Google+
posted by Bob Baker @ 12:13 PM 3 comments


---
3 Comments:
At Dec 14, 2007, 10:19:00 PM, Noel said...

Hi Bob,
Great article. I am off to squidvids!
You might want to add Yuwie to your list. It's a networker's dream.
http://www.iloveyuwie.com

Best Regards,
That SongBird Guy

At Dec 14, 2007, 11:56:00 PM, Megaphone said...

Thanks for the tip on SquidVids.com! I encourage people to read the book The Long Tail by Chris Anderson for other reasons why they need to get out on multiple sites. Also, your octopus symbol reminded me of a post by Robert Scoble on the Social Media Starfish.
http://scobleizer.com/2007/11/02/social-media-starfish/

We learn something new from you with every post!

- megaphone
megaphone is a four-piece rock band with loud guitars, big drums, solid vocal harmonies, and hooks that stick to the side of your head

promo@megaphonemusic.net
http://www.megaphonemusic.net
http://www.myspace.com/megaphone

At Dec 22, 2007, 6:33:00 PM, art damage said...

if you want to see some of the potential of squidoo check out my site:

http://www.squidoo.com/art_damage

this octopus thing describes my approach and names it well.

TIP: if you like to keep track of things
subscribe to google alerts with your band's name in "quotes" it notifies every time you're blogged or otherwise announced on the web.
---
FREE Music Tips Ezine
Feed Me
What About Bob?
Bob Baker is an author, speaker, teacher, indie musician and former music magazine editor dedicated to showing musicians of all kinds how to get exposure, connect with fans, sell more music, and increase their incomes.
Bob's Books
Guerrilla Music Marketing Online
129 Free & Low-Cost Ways to Promote & Sell Your Music on the Internet
Guerrilla Music Marketing Handbook:
201 Self-Promotion Ideas for Song-
writers, Musicians and Bands on a Budget
Connect with Bob on
Previous Posts
Favorite Music Blogs
Copyright 2004-2013 Bob Baker